New: The Business of Ethics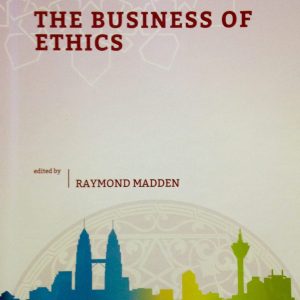 Newly Published: The Business of Ethics
Dr. Kara Tan Bhala, President of Seven Pillars Institute, contributed a chapter to this handy, engaging and readily accessible volume. The Business of Ethics is a fresh addition to the stable of books on business ethics. Dr. Raymond Madden, CEO at the Asian Institute of Finance (AIF), is the book's editor and the publisher is IBFIM in collaboration with AIF. Both organizations are based in Kuala Lumpur, Malaysia. The AIF is a think tank jointly established by Bank Negara Malaysia, the country's central bank, and the Securities Commission Malaysia to enhance human capital development and talent management across the financial services industry in Asia.
Contributors to the book span the academy, financial services and industry. They include Nobel Laureate Professor Muhammad Yunus, the founder of Grameen Bank and originator of social business and microcredit, Charles Hamden-Turner the creator of Dilemma Theory and Emmanuel Lulin, Chief Ethics Officer of L'Oreal.
In his Introduction, Dr. Madden writes:
This book is a collection of edited chapters from thought leaders around the world who have a story that relates to the ethics of business in today's interconnected and challenging commercial environment…Rather than offer a single voice on ethics, I wanted to hear the personal journeys that leaders around the world have made, or are making as individuals running organizations which have an ethical philosophy or from those that had something to say that would allow the reader to broaden her/his perspectives on the topic.
Contents
The organization of the book allows the reader to graze at her leisure:
Foreword John Kay
1. Business Ethics: Where are We Going? Raymond Madden
2. Realigning Economics to Redesign the World Muhammad Yunus
3. Capitalism, Morality and Business Ethics Abbas Mirakhor
4. The Problem with Western Banks: Does the Global Alliance for Banking on Values have an Answer? Charles Hamden-Turner, David Korslund and Raymond Abelin
5. Sustainable Finance: What Can Boards of Financial Institutions Do? Andrew Sheng
6. Online Lending in China – Some Perspectives on Conduct, Safety and Sustainable Development Liu Mingkang
7. Ethics in Economics and Finance: An Islamic Finance Perspective Jaseem Ahmed
8. The Evolving Role of Chief Ethics/Compliance Officer Emmanuel Lulin
9. Our Credo: The Story of Johnson and Johnson Dominic J. Caruso
10. The Decline and Rise of Financial Ethics Kara Tan Bhala
As the reader observes, topics are wide ranging and yet, meaningful. The writers give readers a good grasp of the ideas behind topics such as sustainable finance, Islamic finance, capitalism, finance and society and the changing roles of bank regulators. The text is a jargon-free but helpful read for interested non-specialists and a good supplement for experts.
The book is available through:
Dr. Raymond Madden – r.madden@aif.org.my
Norizatulatma Dato' Shamsuddin – norizatulatma@aif.org.my
Mohm Zain Abdul Rahman – mzar@ibfim.com