Ethics Analysis: The Panama Papers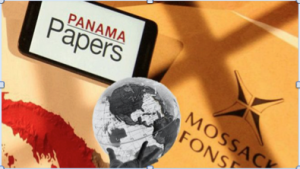 By: Anh Le
Introduction
John Doe sent the documents he gathered from Mossack Fonseca (MF), a Panamanian law firm to the German newspaper Süddeutsche Zeitung stating that massive, pervasive corruption from high net worth individuals and criminals represented the erosion of ethics around the world. John Doe believed the documents had to be made public for everyone to understand the sources of income inequality.[1] Many famous individuals have since been mentioned in the Panama Papers, including: President Vladimir Putin of Russia, President Xi Jinping of China, Juan Damiani – the FIFA ethics judge, along with countless others around the world. Vietnam's high net worth individuals were mentioned in the Panama Papers,[2] even though the majority of Vietnam's most notable businessmen claim their investments are legal.[3] This report provides an overview of MF, how its documents were leaked to the world, and the global reactions. Specifically, this report addresses the cases documented in the Panama Papers and the ethical concerns raised. The report will use a deontological approach to discuss whether MF and its clients' actions were immoral.
Overview
2.1 Mossack Fonseca
Founded in 1986, MF is a Panamanian law firm and corporate service provider, which has grown to more than 40 offices worldwide.[4] The firm specializes in trust services, wealth management, international business structures, and commercial law. The firm has specialized attorneys experienced in all areas of law such as shipping, immigration, contracts and intellectual property, as well as commercial law to help clients physically relocate to Panama, handle immigration matters and buy/rent properties to establish their businesses in Panama.[5] In 2013, the firm was described as one of seven that collectively represented more than half of the offshore companies incorporated in Panama. According to the Economist, the firm has 5 to 10% of the global shell company market, indicating it is one of the big players in this industry.1
2.2 Mossack Fonseca's controversies before Panama Papers
Before the Panama Papers, MF was accused of money laundering. In the 2014 case of Argentine money laundering, MF Corporate Services was summoned to recover money for the Argentinian government. The firm allegedly created shell companies to transfer money from the government to Lázaro Báez. Despite MF's founder Jürgen Mossack testifying under oath that MF Corporate Services (Nevada) Ltd. had no affiliation with the Panamanian MF; the Panama Papers showed that MF Corporate Services was a wholly-owned subsidiary of MF, which tried to hide the relationship by deleting emails and other computer footprints.1 The U.S. District Court in Las Vegas ordered MF to turn over paperwork on 123 companies used by a crony of Argentina's former president to steal millions of dollars from government contracts. MF refused to turn over the documents.[6]
Another controversy before the Panama Papers, was the Petrobras corruption scandal. A judge in this case found that "Mossack Fonseca provided services for the opening of offshore societies, and at least four agents were involved in a scheme to launder money". Unsurprisingly, the firm responded that the Brazilian office is a franchise office that had nothing to do with MF's practice.6
2.3 Panama Papers
The Panama Papers were leaked on Sunday, April 3 by a German newspaper Süddeutsche Zeitung and the Washington-based International Consortium of Investigative Journalists (ICIJ). They claimed to have 11.5 million confidential documents from the firm, some dating back to the 1970s. The leak immediately captured attention as 12 current or former world leaders, 128 other public officials and politicians, and hundreds of other members of the elite from nearly every country, along with drug lords and criminals were named in the Panama Papers.[7]
In response, MF stated that media reports have portrayed the firm inaccurately and misrepresented its role in the financial market. MF said it performed the necessary due diligence and the mishaps came from "international financial institutions as well as trust companies and prominent law and accounting firms, who act as intermediaries and are regulated in the jurisdiction of their business. These clients are obliged to perform due diligence on their clients in accordance with the KYC and AML regulations to which they are subject".[8] The company informed its clients on 3 April 2016, that files had been obtained through a hack of the company's email server. Forbes also claimed MF's exchanged emails were not encrypted, and the customer's portal used Drupal software, which had several vulnerabilities.[9]
Cases in the Panama Papers
3.1 Hide and seek after divorce
When ICIJ dug through the files that were sent from John Doe, they found out about many global asset hunts as part of bitter divorces between high net-worth individuals. The documents provide facts and figures — cash transfers, incorporation dates, links between companies and individuals — that illuminate a dark universe where people play by different rules.[10]
One of the most intriguing cases is the divorce between Elena Rybolovleva and Russia's "Fertilizer King" Dmitri Rybolovlev. Under the law of Switzerland, where the couple resided, divorcing spouses have to split their wealth equally. MF helped Mr. Rybolovlev to open Xitrans Finance Ltd in the British Virgin Islands. The valuable assets listed were paintings by Picasso, Modigliani, Van Gogh, Monet, Degas and Rothko, as well as Louis XVI style desks, tables and drawers made by some of Paris's grandest furniture makers. According to a note from a court hearing during the divorce process, Mr. Rybolovlev used his offshore company to move these luxury items out of Switzerland to Singapore and London, beyond his wife's reach. Even though Xitrans was owned by the Rybolovlev family trust, only Dmitri Rybolovlev held shares in the company, presumably, to take these assets out of the asset division. Eventually, the court awarded Mrs. Rybolovleva $600 million, and MF stated it did not involve itself in managing its clients' companies.10
3.2 FIFA and its offshore haven
Leaked documents from the Panama Papers show Juan Pedro Damiani, who was a member of FIFA's Independent Ethics Panel, had business relationships with three men indicted in FIFA's corruption scandal and worked for offshore companies created by MF. Mr. Damiani initially said his law firm does not maintain "any professional relationship" with the people who were indicted in FIFA's investigation. It was confirmed on March 18 that he had business ties with Eugenio Figueredo, a former FIFA vice-president, who has been charged by U.S. authorities with wire fraud and money laundering. Mr. Damiani was also involved with Hugo and Mariano Jinkis – two businessmen charged with fraud and money laundering in the FIFA scandal, by acting as their company's "principal beneficiary".[11] As a result, Mr. Damiani resigned from his position at FIFA on April 6, 2016 and denied any wrongdoing in the Panama Papers case.[12]
So how did MF come into play? Mr. Damiani and his law firm J.P. Damiani & Asociados, acted as intermediaries for hundreds of companies registered with MF. Moreover, four of the sixteen FIFA officials indicted in the case used offshore companies created by MF. Notably, Michel Platini and Jeromé Valcke. Mr. Platini, who was a longtime member of FIFA's executive committee and was banned from soccer for six years, relied on MF to help him with his offshore company, created in Panama in 2007. Mr. Valcke, who was secretary of FIFA from 2007, until he was banned on corruption charges in 2015, also appeared in the document. His company, Umbelina SA, was created in 2013 and appeared to purchase a yacht, despite his response that "the company never had its own funds, never held a bank account and never had any commercial activity".11
3.3 World leaders and their acquaintances
Most world leaders and politicians did not directly appear in the Panama Papers. However, their names gradually revealed themselves through links with their associates and family members. One of the most distinguished names that may involve MF indirectly was China. Multiple relatives of members of China's Communist Party's most powerful committee, including President Xi Jinping had offshore companies with MF.[13] Notably, Deng Jiagui, the brother-in-law of China's leader Xi Jinping, owned a business empire along with Mr. Xi's sister. Mr. Deng acquired three firms via MF before Mr. Xi became president. By the time he became President, one company had been dissolved and the other two were dormant. After the news, China's government quickly censored the top phrases related to the incident and blocked Internet searches and online discussions that involved the words "Panama Papers" to divert Chinese media and public attention. One of MF's own reviews concluded that "our risk assessment formula is seriously flawed" when the firm deals with "politically exposed persons" — government officials or their family members or associates.[14]
3.4 Crime and money laundering
Aside from high net-worth individuals and politicians, MF also created hard-to-trace companies for malefactors – criminals and wrongdoers who benefited from the firm's offshore companies before Panama Papers. The drug queen Mallory Dadiana Chacón Rossell, was identified by U.S. authorities as "one of the most prolific narcotics traffickers in Central America". U.S. officials accused her of sending thousands of kilograms of cocaine to the U.S, as well as laundering millions of dollars each month. According to the Panama Papers, MF established Brodway Commerce Inc., in which Chacón Rossell was listed as a Director and President. MF also helped the company create an account with Panama's Banvivienda Bank and Guatemala's Banco Reformador; the latter held $12 million by October 2009.[15]
Another criminal mentioned is the American fraudster Martin Frankel. Frankel had been a long-time customer of MF and owned two offshore companies that MF helped create. When Frankel was caught in 1999, FBI and insurance regulators said he used a variety of aliases and shell corporations to drain more than $200 million from his insurance companies and investors before running away.[16] MF took several months to respond to U.S. officials' requests for documents, while shutting down companies linked to Frankel and disengaging him.15
3.5 Dealing weapons and financing terror
Terrorists and military groups create and run shell companies to evade taxes, regulations, and international laws, aiding arm dealers to strike deals to fund wars worldwide. Coincidentally, one of MF's clients was John Knight, who is a U.K. arms trafficker who admitted to supplying Sudan with tanks, rocket launchers, artillery, guns, and Soviet airplanes to engage in genocide in Darfur. Through an intermediary, Knight bought a shell company called Endeavour Resources Limited from MF in 2005. Knight used the company to traffic arms in the Middle East. British customs authorities found Knight's shredded documents, showing he tried to cover up his plan to buy 130 automatic weapons from Iran and sell them to Kuwait via Endeavour Resources. Knight was sentenced to four years in prison, and MF resigned as Endeavour Resources' registered agent; however, it remained as Business Systems Consultant Ltd.'s agent, a company listed as Endeavour Resources' director.15
Summary of broad ethical concerns
4.1 MF helped high net worth individuals hide assets from the law, some of which eventually came to light in courts, despite the firm's denials regarding clients' asset management.
4.2 MF was involved with FIFA executives using offshore companies to deliver bribes, slash tax payments and launder money illegally. All parties involved denied any wrongdoing.
4.3 MF worked with relatives and acquaintances of superpowers' key political figures to transfer large amounts of money for secret reasons. The Chinese government has aggressively denied any wrongdoing and tried to divert its citizens' attention.
4.4 MF opened companies for drug lords, fraudsters and criminals to store and pay out money that came from unknown sources. When the people in question were arrested or investigated, MF took a long time to respond to the law's request for information, while disengaging from their troubled clients.
4.5 MF co-operated with arm dealers and regime supporters to bring warfare and terror to citizens in Kuwait, Sudan, Syria, etc. MF kept its partnership with the individuals in question despite their well-known records and sanctions.
An ethical analysis of the Panama Papers
5.1 A deontological approach
Deontology states that an ethical evaluation must depend solely on basic moral duties or codes of conduct.[17] Under deontological examination, actions are assessed independently of their results.[18] In this section, we evaluate the actions of MF, the case of Rybolovlev's divorce, the case of Mr. Damiani and FIFA, using agent-centered deontological theory and patient-centered deontological theory.
5.1.a The case of Mossack Fonseca's actions
In the case of the Panama Papers, MF's questionable decisions violated agent-centered deontology. Helping a partner hide assets from his/her spouse before court proceedings or transferring bribes for sports officials can hardly be called righteous maxims, as it negatively impacts others that are involved by creating unfair advantages for MF's clients. From a purely agent-relative deontological perspective, the firm failed to uphold its moral duty of supporting legal business to its clients. By indirectly supporting the drug trade, money laundering and arms deals, it went against business ethics for its clients' gains. MF's support hurt people around the world and benefited only its clients.18
Using patient-centered deontological theory, MF still appeared to violate the maxim, by not respecting people' rights in the cases mentioned above. Victims in the warzones of Sudan and Syria have the right to live peacefully and prosper in their societies. Actions from the Syrian regime and arms dealers that are supported by MF essentially ended the lives and prospects of innocent citizens. Many of the criminals who had offshore entities with MF went to prison to pay for their crimes. This indicates that MF's partnerships opposed standards of lawful societies and violated the basic rights of citizens and businessmen around the world.17
5.1.b The case of Rybolovlev's divorce
Patient-centered deontological theory dictates that people have the right against being used by another for the users' or others' profits.17 In the case of Rybolovlev's divorce, Mr. Rybolovlev used his family trust to hide assets and failed to disclose this to his ex-wife when they divided their assets. His ex-wife was entitled to half of their assets under the law of Switzerland, where they resided.10 As a result, she was opposed to letting the incident slide and took the matter to court. According to patient-centered theory, Mr. Rybolovlev violated the ethical rights of his wife, and was forced to pay his wife $600 million as a result.
5.1.c The case of Juan Pedro Damiani
As a member of FIFA's Independent Ethics Panel, Mr. Damiani had a duty to lead by example. This can be done by regularly monitoring FIFA's members for any potential corruption or wrongdoings, and taking appropriate measures against individuals who violated FIFA's laws and regulations. This obligation is agent-relative, as it is a requirement for an ethical board of which Mr. Damiani was a member. Other business or professional relationships should come second to that fact.17
In reality, Mr. Damiani had business ties with three men before they were indicted in FIFA's corruption scandal. By not reporting these individuals for their wrongdoings, Mr. Damiani did not fulfill the obligations of his position, he instead decided to work with them, even taking a "principal beneficiary" role in one of their companies. Mr. Damiani should not have held the position if he wanted to prioritize his business relationships. His actions further deteriorated public trust in FIFA's integrity after the scandal. In short, Mr. Damiani's action represented a violation of his obligations toward FIFA and is not ethical from an agent-centered deontological perspective.
5.2. A consequentialist approach
A consequentialist approach comes from classic utilitarianism, which denies that moral rightness depends on anything other than consequences.[19] Consequentialism states that the consequences of an action are all that matter when making an ethical decision. There are many different branches within consequentialism, such as direct consequentialism, hedonism, universal consequentialism and equal consideration.19In this section, we will use consequentialism, total consequentialism, and equal consideration to evaluate the case of Xi Jinping, China's leader; the case of Mallory Dadiana Chacón Rossell and Martin Frankel, the criminals; and the case of John Knight, the arms dealer.
5.2.a The case of China's leader – Xi Jinping
In this case, the primary stakeholders are MF – the law firm, Mr. Xi's brother-in-law Deng Jiagui, and the Chinese government. The secondary stakeholders are China's president Xi Jinping, the Chinese people who paid attention to the Panama Papers or believed in their President, and Chinese government officials who may question Mr. Xi's character. Using consequentialism, here are the possible positive consequences of Mr. Deng's action and the Chinese government's response:
The news from the Panama Papers were blocked, which hopefully will make the public disinterested and stop them from questioning the Chinese leaders' involvement, bringing stability for China in the short run.
Mr. Deng's action of closing the offshore companies before Mr. Xi became President will erase any dubious transactions that may have happened in the past and preserve Mr. Deng's image.
In contrast, here are the possible negative consequences from the Panama Papers:
Chinese public cynicism regarding Mr. Xi's corruption stance. Mr. Xi has been known for his anti-corruption campaign, where he vowed to crack down on "tigers and flies", and netted over 120 high-ranking officials.[20] Yet he did not disclose the offshore accounts linked to his family. The government's fast reaction to block and censor the information in the Panama Papers also raised questions. If Mr. Xi and other high-ranking officials in the Panama Papers had nothing to fear, they would have nothing to hide.
Chinese government officials may question Mr. Xi's integrity. Mr. Xi has been adamant that laws and regulations need to be enforced to ensure that corruption diminishes. Officials may think his involvement with the Panama Papers is hypocritical, as the rules and laws he endorsed do not apply to himself and his associates. This creates an incentive for further corruption, as Chinese officials will think either "if everyone else is doing it then it must be okay" or that "I probably won't ever be caught anyway".20
Possible erosion of foreign investor trust. Foreign investors have always been cautious investing in China, partially because of the red tape and corruption that is prevalent in the Chinese government. This incident will make them warier, and diminished foreign investments in the Chinese market will be damaging for the Chinese economy in the long run.
The magnitude of positive consequences is short-term as Mr. Xi's government may divert its critics to protect its leader's image after this incident. However, Mr. Xi's record may be tarnished and his character questioned if other similar incidents are exposed. The government will likely lose the trust of its people, investors, and officials, and the incident can encourage other officials to behave in the same manner. Overall, the Chinese government's response to the incident is unethical, and while we may never know the relation between Mr. Xi and MF's offshore companies, his ethics in this case is questionable at best.
5.2.b The case of the criminals
In the case of drug queen Mallory Dadiana Chacón Rossell, the primary stakeholders are Chacón Rossell and Mossack Fonseca. The secondary stakeholders are American and South American drug users and their societies, and U.S. officials who targeted the drug queen. Using total consequentialism, here is one possible positive consequence in this case: Chacón Rossell's personal wealth will increase from her legalized offshore companies, through which she might launder money and other assets she earned from drug trafficking.15 On the other hand, here are the negative consequences that MF's support can bring:
MF's support created incentives for Chacón Rossell and her associates to perform illegal activities such as money laundering and drug trafficking with the help of offshore companies.
MF' support indirectly encouraged Chacón Rossell's drug empire to grow, which will support the drug markets and supply drug users with an abundant amount of cocaine, an illegal drug that can cause hyperthermia, strokes and death.[21]
MF's offshore companies could help Chacón Rossell hide her

cash flow

, which makes it difficult for authorities to gather evidence against her drug empire.
The only positive consequence here is Chacón Rossell's wealth, minor compared to the negative consequences that her drug empire caused. Her drug empire destroyed lives and families from the cocaine that she trafficked, as well as indirectly imposed financial costs on society such as health care, productivity loss, and the cost of operations for officers to prevent drug trafficking.[22] According to total consequentialism, MF's support and Chacón Rossell's businesses are not ethical.
Similarly, in the case of Martin Frankel, the perpetrator, law enforcement, and MF are primary stakeholders. The secondary stakeholders are Frankel's victims and other companies that are in the offshore business like MF. Using universal consequentialism, the likely positive consequence is the "win-win" relationship between MF and Martin Frankel, as Frankel paid fees for MF to create entities to shield $200 million he drained from his investors.15 In contrast, the negative consequences of this case were the financial loss of Frankel's customers, the loss of trust from investors, and the incentive for other companies like MF to help out fraudsters like Frankel, since MF did not get into trouble. Comparing both sides, the consequences were not good for the majority of people involved and the ethics in the financial industry. Therefore, MF's support of Frankel's crime should be considered unethical.
5.2.c The case of arm dealers
In the case of John Knight, the primary stakeholders are his clients, MF, and British customs authorities. The secondary stakeholders are the people from Darfur and Kuwait. Using equal consideration,19 the positive consequence is that John Knight benefits from selling destructive weapons that his clients can use in civil wars and genocides. On the other hand, here are the negative consequences of John Knight's deals:
The weapons that John Knight successfully sold were used to engage in genocide in Darfur, which killed innocent people and aggravated the tensions in that region.[23]
Without British authorities' investigation, MF's company could have helped Knight gain more profits and expand his businesses to fund wars and conflicts in other countries, destroying more innocent lives.
Using equal consideration, Knight's profits matters much more to himself, and cannot be compared to the Sudanese suffering, making Knight's action immoral.19
Summary and Opinion
As John Doe stated, "the next revolution will be digitized."1 The Panama Papers were truly a revolution in journalism delivering a hefty blow to the offshore accounting world, which has been operating secretly with the global rich.[24] MF may gain an immense fortune and influence in Panama, as well as maintain quality service for its clients. However, that does not justify its lack of due diligence, perhaps intentional, on prospective clients. Neither does it justify MF's unwillingness to co-operate with authorities in regards to its clients' data, its lack of secured methods to protect clients' confidential data, and its denial of any wrongdoings that are related to the firm.
Creating an offshore company is legal, helping clients to launder money, strike up arms deals, evade taxes, or hide assets is illegal and unethical. No matter how little or much law firms like MF know before conducting the deals, the ethics evaluation of the cases demonstrate MF's actions are unethical. A deontological approach supports this conclusion, and the Panama Papers incident is the beginning of investigations. Authoritative figures around the world are starting to catch on to the mysterious world of tax havens and offshore entities – the data gives strong evidence that more regulation and supervision is required to keep this industry in check and to reduce the income gap it causes. Otherwise, the many will keep suffering to unknowingly benefit the few, and income inequality will remain a problem for years.
Editor: Eric Witmer
-x-
[1] https://panamapapers.icij.org/20160506-john-doe-statement.html
[2] http://english.vietnamnet.vn/fms/business/156226/panama-papers-expose-over-100-firms–individuals-in-vietnam.html
[3] http://e.vnexpress.net/news/news/vietnam-s-prominent-businesspersons-named-in-panama-papers-what-they-ve-got-to-say-3400536.html
[4] https://en.wikipedia.org/wiki/Mossack_Fonseca
[5] http://www.mossfon.com/about_service/mf-group/
[6] https://panamapapers.icij.org/20160403-mossack-fonseca-offshore-secrets.html
[7] https://en.wikipedia.org/wiki/Panama_Papers
[8] http://mossfonmedia.com/wp-content/uploads/2016/04/Statement-Regarding-Recent-Media-Coverage_4-1-2016.pdf
[9] http://www.forbes.com/sites/thomasbrewster/2016/04/05/panama-papers-amazon-encryption-epic-leak/#66593f3c1df5
[10] https://panamapapers.icij.org/20160403-divorce-offshore-intrigue.html
[11] https://panamapapers.icij.org/20160403-ethics-fifa-scandal.html
[12] http://sports.yahoo.com/news/damiani-resigns-fifa-ethics-committee-panama-papers-fallout-163103669–sow.html
[13] http://www.nytimes.com/2016/04/07/world/asia/china-panama-papers.html?_r=0
[14] https://panamapapers.icij.org/20160403-panama-papers-global-overview.html
[15] https://panamapapers.icij.org/20160509-malefactors-criminals-offshore.html
[16] http://www.courant.com/news/connecticut/hc-martin-frankel-insurance-fraud–probation-20151001-story.html
[17] http://plato.stanford.edu/archives/win2012/entries/ethics-deontological/
[18] https://sevenpillarsinstitute.org/morality-101/kantian-duty-based-deontological-ethics
[19] http://plato.stanford.edu/entries/consequentialism/
[20] https://en.wikipedia.org/wiki/Anti-corruption_campaign_under_Xi_Jinping
[21] https://en.wikipedia.org/wiki/Cocaine
[22] http://www.ehow.com/info_8403651_problems-caused-drug-trafficking.html
[23] http://worldwithoutgenocide.org/genocides-and-conflicts/darfur-genocide
[24] http://www.bbc.com/news/world-35918844
Works Cited
"About the MF Group." Mossack Fonseca. Mossack Fonseca, n.d. Web. 12 July 2016.
Alexander, Larry. "Deontological Ethics." Stanford Encyclopedia of Philosophy. Stanford University, 12 Dec. 2012. Web. 13 July 2016.
"Anti-corruption Campaign under Xi Jinping." Wikipedia. Wikimedia Foundation, n.d. Web. 13 July 2016.
Bilton, Richard. "Http://www.bbc.com/news/world-35918844." BBC News. BBC, 4 Apr. 2016. Web. 13 July 2016.
Chittum, Ryan, Jake Bernstein, and Michael Hudson. "The Malefactors of Mossack Fonseca." · ICIJ. ICIJ – The International Consortium of Investigative Journalists, 9 May 2016. Web. 13 July 2016.
"Cocaine." Wikipedia. Wikimedia Foundation, n.d. Web. 13 July 2016.
"Damiani Resigns from FIFA Ethics Committee in Panama Papers Fallout – FIFA." AFP. Yahoo Sports, 6 Apr. 2016. Web. 13 July 2016.
"Darfur Genocide." World Without Genocide. World Without Genocide, n.d. Web. 13 July 2016.
Fitzgibbon, Will. "How the One Percenters Divorce: Offshore Intrigue Plays Hide and Seek with Millions." · ICIJ. ICIJ – The International Consortium of Investigative Journalists, 3 Apr. 2016. Web. 13 July 2016.
Forsythe, Michael. "Panama Papers Tie More of China's Elite to Secret Accounts." The New York Times. The New York Times, 06 Apr. 2016. Web. 13 July 2016.
Fox-Brewster, Thomas. "From Encrypted Drives To Amazon's Cloud — The Amazing Flight Of The Panama Papers." Forbes. Forbes Magazine, 5 Apr. 2016. Web. 13 July 2016.
"Giant Leak of Offshore Financial Records Exposes Global Array of Crime and Corruption." · ICIJ. ICIJ – The International Consortium of Investigative Journalists, 3 Apr. 2016. Web. 13 July 2016.
Hamilton, Martha M. "Panamanian Law Firm Is Gatekeeper To Vast Flow of Murky Offshore Secrets." · ICIJ. ICIJ – The International Consortium of Investigative Journalists, 3 Apr. 2016. Web. 12 July 2016.
Mahony, Edmund H. "Martin Frankel, Author Of $200 Million Insurance Swindle, Is Back in Court." Courant.com. Hartford Courant, 1 Oct. 2015. Web. 13 July 2016.
"Mossack Fonseca." Wikipedia. Wikimedia Foundation, n.d. Web. 13 July 2016.
"Panama Papers Expose over 100 Firms, Individuals in Vietnam." Vietnamnet.vn. VietNamNet Online Newspaper, 10 May 2016. Web. 13 July 2016.
"Panama Papers Source Offers Documents To Governments, Hints At More To Come." (n.d.): n. pag. ICIJ – The International Consortium of Investigative Journalists. Web. 13 July 2016.
"Panama Papers." Wikipedia. Wikimedia Foundation, n.d. Web. 13 July 2016.
Rivlin, Gary, Marcos García Rey, and Michael Hudson. "Leak Ties Ethics Guru to Three Men Charged in FIFA Scandal." · ICIJ. ICIJ – The International Consortium of Investigative Journalists, 3 Apr. 2016. Web. 13 July 2016.
Shakil, Ali. "Deontology – Kantian Duty-Based Ethics." Seven Pillars Institute. Seven Pillars Institute, n.d. Web. 13 July 2016.
Sherwood, Chris. "Problems Caused by Drug Trafficking." EHow. Demand Media, n.d. Web. 13 July 2016.
Sinnott-Armstrong, Walter. "Consequentialism." Stanford Encyclopedia of Philosophy. Stanford University, 22 Oct. 2015. Web. 13 July 2016.
"Statement Regarding Recent Media Coverage." Mossack Fonseca. Mossack Fonseca, 1 Apr. 2016. Web. 13 July 2016.
"Vietnam's Prominent Businesspersons Named in Panama Papers: What They've Got to Say." VnExpress International. FPT Corporation, 10 May 2016. Web. 13 July 2016.