Update: Part 4 of Trump Financial Ethics Watch Series
By: Ryan Sim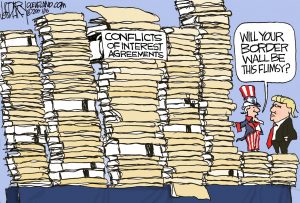 President Trump is apparently not taking steps to rid the worrisome conflicts of interest associated with his administration. The problems will not go away unless there are concerted bipartisan calls for reform. Regardless of political leanings, a transparent, accountable government is essential for societal welfare.
Ethics is an Indispensable Policy Gauge
Ethical standards are a universal language to voice our otherwise ineffable outrage towards corruption. Champions of moral relativism will argue ethical standards are arbitrary as an evaluative tool for public policy. However, value judgments are embedded in every legislative decision, and it is our duty to evaluate moral standing rather than resign ourselves to the view that every side is morally neutral.
Using the Foundation of Political Philosophy
The most fundamental assumption underlying every political system is the government has an obligation to its people. Rawls best explains this obligation as the people subsume their natural rights, or unrestrained behavior, to civil rights such as political freedoms and property rights (Rawls). This more or less captures the spirit of contractarian theory – that governments enter into an exchange with their people, and both parties must uphold their obligations to the social contract
Conflicts of Interest Undermine the Social Contract
Conflicts of interest distort the public's will, mixing private and personal interests into the decision-making processes of the government. When a government begins to carry out any will that is not purely public, the people can no longer trust that government, causing trust to break down. The Social Contract is bound by trust, and without this virtue, the people see government as an enemy rather than as an extension of its will.
President Trump promised the people he would focus efforts on draining the swamp of corruption in Washington, but only a quarter of Americans in a Monmouth University poll believe Trump is "draining the swamp" of Washington corruption (Nelson). Though he claims that he increased regulations since the Obama administration, his ethics rules have either been loosened or remain largely the same.
Increased Secrecy
The White House has been reluctant to release ethics waivers detailing which officials have conflicts of interest. Ethics waivers are traditionally an important tool for the press and public to know which leaders may need greater scrutiny. When the Office of Government Ethics (OGE) asked the Trump administration to release the waivers, the White House argued the OGE lacked jurisdiction overseeing these waivers. (Geewax) This rebuff demonstrates a deliberate reluctance to comply with ethics rules, and it was only until two months later that the administration agreed to disclose the waivers online. Even then, some officials wonder if there should be more waivers or if officials are following "narrow recusal standards" as stated by Robert Weissman, president of Public Citizen (Lipton and Eder).
More ambiguity
As for ambiguity, Trump's administration typically grants waivers that give enormous flexibility in administrative roles. One example of such a waiver was given to Shahira Knight, who was vice president of public policy for Fidelity and is now special assistant for tax and retirement policy. Her waiver allows her to work on "matters of general applicability relating to tax, retirement, and financial services issues." The waiver's language is not only too broad to be restrictive but it also directly overlaps with Fidelity's lobbying goals of "finance, retirement, banking, and taxes." (Choma). In contrast, the Obama administration used waivers with very narrow criteria such as the waiver for Obama's national security advisor James Jones to introduce Bill Clinton at an Atlantic Council event (Choma).
Introduction of Retroactive Ethics Waivers
Another alarming revelation from the disclosed ethics waivers is the retroactive waiver that excused Bannon's contact with his past employer Breitbart News (Lipton and Eder). The White House has set a dangerous precedent by granting a retroactive waiver. Waivers are meant to prevent future unethical activity rather than justify the past. Moreover, allowing waivers to be used as blank checks for unethical behavior circumvents the entire point of having them in the first place. Ethics waivers only should be used to distinguish ethical behavior from the beginning, so public officials do not feel permitted to engage in conflicts of interest to be excused later.
And there has been over two dozen of these conflicts of interest, excused by the ethics waivers that have been gradually released to the public. The first round of releases came in May, and another release happened just in June 2017. Here are ten of the most egregious:
| | | | |
| --- | --- | --- | --- |
| Official's Name | Administration Position | Prior Position | Ethics Waiver Effect |
| Lance Leggitt | Chief of Staff at Department of Health and Human Services | Lobbyist on Medicare Policy for Healthcare Lobbying Firm Baker Davidson | Allows him to work on the same healthcare matters for which he lobbied |
| Steve Bannon | White House Chief Strategist | Founder of Breitbart News, nationalist & ultra-right news outlet | Blanket exemption – allows all appointees to "participate in communications and meetings with news organizations regarding broad policy matters". Excuses Bannon after his admitted communications with his former news org. |
| Shahira Knight | Special Assistant for Tax and Retirement Policy | VP of Public Policy at Fidelity, a financial services company | Allows her to work on "matters of general applicability relating to tax, retirement, and financial services issues." |
| Kellyanne Conway | White House counselor | Founder of The Polling Company Inc. | Allowed to communicate with former clients of her polling firm, including a variety of political and conservative advocacy groups |
| Joshua Pitcock | Pence's Chief of Staff | Lobbyist for the State of Indiana | Allowed to work on broad policy matters affecting the state of Indiana on issues including refugee policy, veterans' issues, environmental regulations, and health care. |
| Reince Priebus | Trump's Chief of Staff | Republican National Committee Chair | Allowed to have communications and meetings with the RNC |
| Michael Catanzaro | Special Assistant to the President | Lobbyist for oil and gas companies like Noble Energy, Devon Energy, Encana Oil and Gas, American Fuel and Petrochemical Manufacturers, and Hess Corporation | Allowed to work on "broad policy matters and particular matters of general applicability relating to energy and environmental policy issues." |
| Andrew Olemem | White House financial policy advisor | Lobbyist on bankruptcy and securities issues at law firm Venable on behalf of many big banks and lenders | Allowed to meet with former clients involved in Puerto Rico's financial crisis and work with insurance/financial policies. |
| Don McGahn | White House Counsel | Former employee with law firm Jones Day | Along with five other former employees of Jones Day, McGahn allowed to communicate with former colleagues |
| Daniel Epstein | Associate Counsel to the President | Executive Director of Cause of Action Institute, watchdog group backed by conservative Koch brothers | Has the right to provide all offices in the White and executive branch with legal advice, and take adverse positions to the Cause of Action Institute |
A Staggering Number of Lobbyists in Leadership
The President has already issued nearly two dozen ethics waivers to political appointees as lobbyists working in offices relevant to their past experience (Schouten). These waivers ought to be used sparingly and are a telltale sign of overlap between the public and private sectors. In less than one year, Trump has used the same number of waivers as Obama during his first term (Disis). Even though Trump made "draining the swamp" one of his central campaign promises, he has needed to waive his ethics laws on several occasions. This demonstrates an overall lack of commitment to the ethics laws he instituted himself through executive order.
Looking at the Trump administration as a whole, as of June 21, 2017, more than 100 former lobbyists have been hired, 69 of whom work in agencies they lobbied at some point, and about three dozen have not received the necessary waivers (Schouten).
The high number of lobbyists in government and ethics waivers is a dangerous trend the public cannot and should not support. Government officials are obligated to uphold public interest rather than corporate interest. Allowing these conflicts of interest to continue further disheartens the public and breaks the already fragile bond between government and its citizens.
Trump's Web of Business Entanglements
During Trump's campaign, he claimed that it was impossible for the president to have a conflict of interest in response to concerns about his global business dealings. This is technically true. According to past rulings the president's executive power is so immense anything could be a conflict of interest (Lee and Kessler). However, this legal question is one worth revisiting, especially when examining Trump's vast business network both domestic and overseas.
Trump has over 144 companies in 25 countries in Asia, Europe, Africa, South America, and North America (Devine). Whether consciously or unconsciously, his political decisions will be shaped by the potential impact they could have on his wealth. Most presidents place their assets into a blind trust so they are unbiased in their choices. However, Trump has given control over his wealth to his two eldest sons, with whom he interacts on a regular basis with updates on the status of Trump Organization's value (Rosenson). There is immense temptation for Trump to use his executive power to increase his wealth.
Trump Hotel as a Domestic Conflict of Interest
It is clear that Trump's businesses are flourishing through their association with his presidency. Of particular prominence among these domestic businesses is the Trump International Hotel. Many other hotels in the Washington DC area have objected to this hotel, since it has become a focal point for political fundraisers, meetings, and foreign visitors. From October to May, Saudi Arabian lobbyists spent over $270,000 on catering, rooms, and parking. Similarly, countries like Bahrain, Azerbaijan, and Kuwait specifically moved their events to Trump's hotel (Altman). Many ethics experts criticize this as a violation of the emoluments clause in the constitution, which states that politicians cannot receive gifts from foreign officials.
Trump may say these foreign visits are just a natural byproduct of his presidency. However, he should truly divest himself from these properties if he wishes to be completely neutral in his presidential duties. Moreover, increased business is not simply a natural byproduct, but it has been the result of his deliberate choices to inappropriately promote his businesses as president. He has visited his properties over 37 times as president, which also acts as a form of advertising that increased his Mar-a-Lago Florida resort's revenues by $7 million over a single filing period (Bykowicz).
Trump's hotel is only the beginning of businesses that have benefited from his visits and promotions. A president should solely have the interests of his people at heart, and it is unethical to use public office for self-promotion. To keep the office's integrity, we must see some promised change by the administration.
The Trump Brand as an International Conflict of Interest
We have seen similar conflicts of interest emerge on the international stage as well, but the difference is that they affect Trump's relationships with foreign powers and therefore shape our entire foreign policy. In this way, these international conflicts of interest can be even more dangerous than these domestic cases of self-promotion.
As just one example of this, we see that foreign governments have expedited the Trump trademark legal processes since his presidential victory. Indeed, Russia extended six expiring trademarks the night of the 2016 presidential election, China approved over 39 trademarks in March, and Mexico approved these trademarks as well (Venook). Since Trump's wealth is built primarily on his brand, these approvals represent significant wealth creation overseas. Though some experts may claim these approvals are nothing more than mere legal formalities, they symbolize the power foreign governments possess over Trump as long as he continues to invest in his international business network.
In the same way, Trump has seen progress in projects such as China, Argentina, and Georgia, where development was abruptly moved forward as soon as he won in November (Venook). One of the primary responsibilities of the US president is to negotiate with leaders from different countries as a public representative. As citizens, we need to rest assured the president has no ulterior motives when entering these negotiations. As it stands, these other countries have too many potential bargaining chips against the president, and it is unethical for the people's sake to let this persist.
Next Steps for the Administration
The government's ultimate goal is to honor its covenant with the people. The clearest indicator the government is upholding its contract is if its actions reflect the will of the people. As demonstrated by public polls, only one in four Americans believe Trump is carrying out his promises to get rid of political corruption (Nelson). Indeed, these conflicts of interest both domestic and international have fully demonstrated to the American people that the administration is intent on representing itself rather than its constituents.
If we truly want to end political corruption, there are a number of immediate and long-term steps Congress as well as the American public can take. First, we ought to strengthen the powers of the Office of Government Ethics. The OGE is our first line of defense against corruption, but many politicians currently view it as weak and inefficient. For a while, the Trump administration even questioned whether the OGE had the authority to review ethics waivers. This is not too far from the truth – the OGE's role has been mainly advisory, and it lacks the power to enforce ethics violations. But ever since the Trump Administration's unique ethical threat, the OGE has tried to push its limits by confronting the White House and repeatedly requesting ethics waivers
We need to establish a precedent in which the OGE has an increased budget to investigate the widespread corruption among the federal agencies (Rosenson). With a small 70-person staff, former OGE director revealed that his office could not handle the overflowing numbers of ethics requests and complaints against the Administration. Indeed, public contacts since the Obama Administration have increased by nearly 5,235 percent (Geewax & Overby). In addition, we should expand the powers of the OGE by taking on the recommendation of public-interest group, Issue One, "to conduct investigations, subpoena witnesses, compel production of documents, and issue civil penalties for violations by high-ranking officials" (McGehee). With more manpower and increased powers of oversight, the OGE could investigate and enforce ethics violations, thus driving political corruption down.
Creating a Culture of Ethics
In the long-term, we need to create a culture where the public and media expect and demand the administration to follow through with their ethical promises. Because the public does not expect transparency and accountability, the government does not see a need to act more responsibly. If the public held its politicians to higher ethical standards, legislators would feel empowered to create independent commissions to investigate conflicts of interest. Though some may believe the public is trapped in a cycle of apathy, it is possible to create a culture where the ordinary citizen is invested in an ethical government that responds to the public will. Voters supported Trump because they hoped he would reduce government corruption, so there is a clear public mandate for a more ethical government. Though it is simple to make grand promises, now is the time to institute accountability measures to realize the public's vision of an ethical government.
Ethics are not antiquated. In fact, they are needed more than ever. We must hold our government to higher ethical standards. We, the people, deserve a government that listens. We can reform our government and take back the republic, but we must start today.
-x-
Sources
Altman, Alex. "Trump Hotel: Conflicts of Interest in Washington, DC." Time. Time, n.d. Web. 25 June 2017.
Bykowicz, Julie. "Trump to Host Trump Re-election Fundraiser at Trump Hotel." AP News. Associated Press, 21 June 2017. Web. 25 June 2017.
Choma, Russ. "Trump Is Waiving His Own Ethics Rules to Allow Lobbyists to Make Policy." Mother Jones. N.p., 23 June 2017. Web. 24 June 2017.
Devine, Curt. "Trump's Foreign Business Interests: 144 Companies in 25 Countries." CNN. Cable News Network, 29 Nov. 2016. Web. 25 June 2017.
Disis, Jill, and Cristina Alesci. "What Trump's Ethics Rules Allow and Don't Allow." CNNMoney. Cable News Network, 2 June 2017. Web. 24 June 2017.
Geewax, Marilyn. "Trump Administration Names More Former Lobbyists With Ethics Waivers." NPR. NPR, 07 June 2017. Web. 24 June 2017.
Geewax, Marilyn, and Peter Overby. "As Trump Inquiries Flood Ethics Office, Director Looks To House For Action." NPR. NPR, 17 Apr. 2017. Web. 07 July 2017.
Kessler, Glenn, and Michelle Ye Hee Lee. "Trump's Claim That 'the President Can't Have a Conflict of Interest'." The Washington Post. WP Company, 23 Nov. 2016. Web. 25 June 2017.
Lipton, Eric, and Steve Eder. "White House Details Ethics Waivers for Ex-Lobbyists and Corporate Lawyers." The New York Times. The New York Times, 31 May 2017. Web. 24 June 2017.
McGehee, Meredith. "Post-Watergate Ethics Panel Needs Urgent Makeover." TheHill. N.p., 29 June 2017. Web. 07 July 2017.
Nelson, Louis. "Poll: Americans Don't Think Trump Is Draining the Swamp." POLITICO. N.p., 24 May 2017. Web. 24 June 2017.
Rawls, John. A Theory of Justice. Cambridge: Harvard UP, 1972. Print.
Rosenson, Beth A. "The Trump Family's Conflicts of Interest Aren't Going Away | Opinion." Newsweek. N.p., 25 Apr. 2017. Web. 25 June 2017.
Schouten, Fredreka. "Ex-lobbyists Swarm Trump Administration, despite 'drain the Swamp' Pledge." USA Today. Gannett Satellite Information Network, 21 June 2017. Web. 07 July 2017.
Venook, Jeremy. "Trump's Interests vs. America's, New Delhi Edition." The Atlantic. Atlantic Media Company, 23 June 2017. Web. 25 June 2017.
Cartoon courtesy of cleveland.com
Photo courtesy of LATimes.